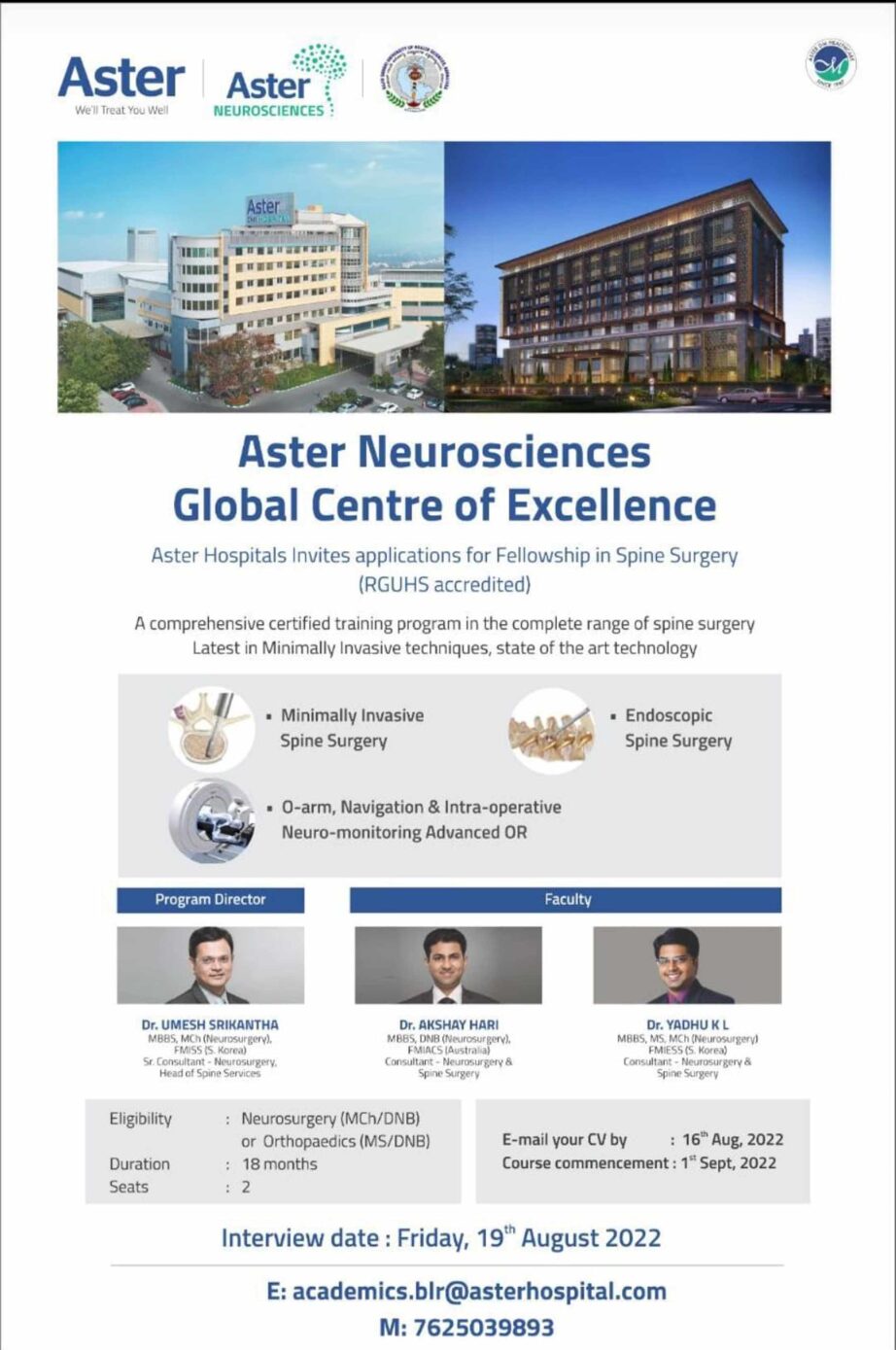 Aster Hospitals Invites applications for Fellowship in Spine Surgery
(RGUHS accredited) Applications invited for fellowship in spine surgery Bangalore
A comprehensive certified training program in the complete range of spine surgery
Latest in Minimally Invasive techniques, state of the art technology

Minimally Invasive
Spine Surgery
Endoscopic
Spine Surgery
O-arm, Navigation & Intra-operative
Neuro-monitoring Advanced OR

Eligibility : Neurosurgery (MCh/DNB)
or Orthopaedics (MS/DNB)
Duration : 18 months
E-mail your CV by : 16m Aug, 2022
Course commencement: 1" Sept, 2022
Seats : 2

Interview date: Friday, 19th August 2022
E: academics.blr@asterhospital.com
M:7625039893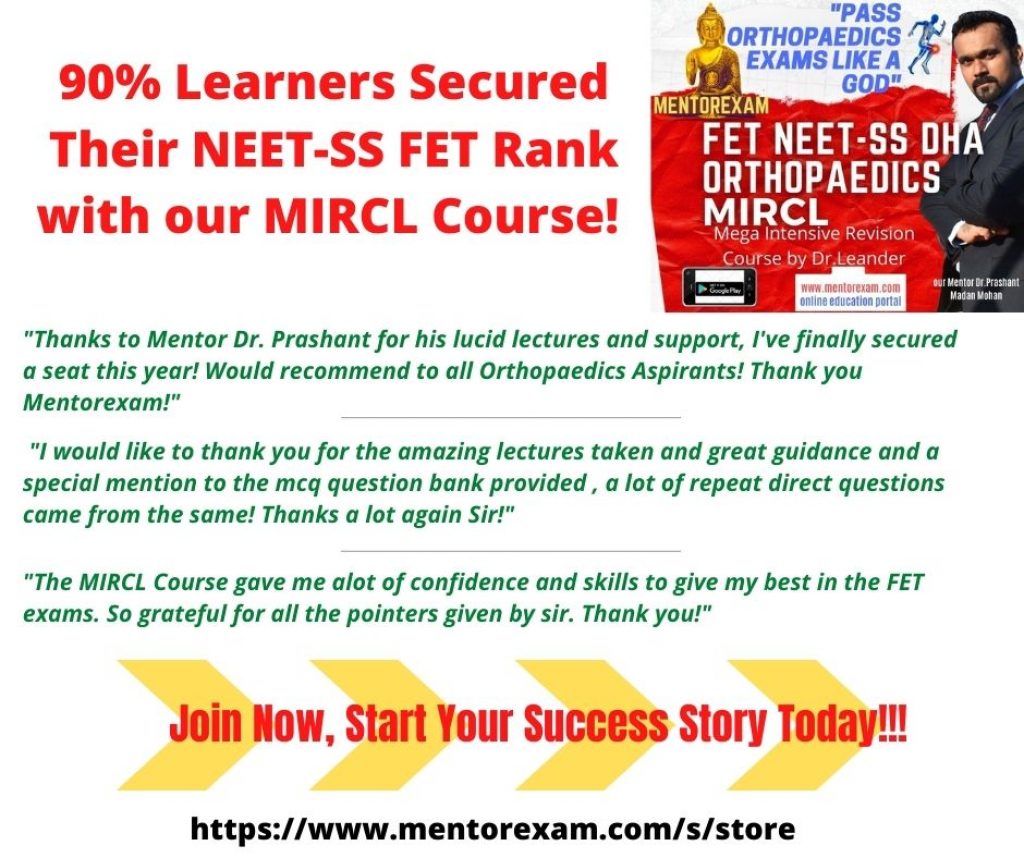 Boost your confidence and top orthopaedic 2022 FET NEET-SS exams easily with the Miracle you have been waiting for! Registrations open for FET NEET-SS DHA Orthopaedics MIRCL course. Mega Intensive Revision Course by Dr.Leander.
Register Now! – https://www.mentorexam.com/s/store/courses/description/FET-Orthopaedics
For all courses – https://ortho.mentorexam.com/
For queries https://wa.me/919087747888
Course features –
1.NEET-SS Orthopaedics MCQ Exam simulation course with-
Real exam interface simulation
Solved recall questions also added
Answers with explanations
Largest question bank with 2000+ NEET-SS FNB Pattern questions and counting
2. NEET-SS HIGH YIELD VIDEO CLASSES
Exam Pattern orientation 1 session
Arthroplasty High yield 11 video sessions
Sports High yield 11 video sessions
Spine High yield 7 video sessions
Hand High yield 8 video sessions
Trauma and Basic High yield 6 video sessions
Paediatric orthopaedics High yield 4 video sessions
3. Best selling Orthopaedics FET NEET-SS MCQS Book(online) By Dr. Prashant included
CONCISE & TIME EFFICIENT
EASY TO RETAIN
All videos available for learning in the course anytime offline in the app
ANDROID APP /IOS
LATEST EXAM MCQS pinpointed
MEMBERS ACCESS TO EXCLUSIVE EXAM DISCUSSION FORUM
TOP THE EXAM WITH CONFIDENCE
Covers Orthopaedics Superspecialities, spine arthroplasty, arthroscopy trauma, paediatrics, hand…
Helpful to get high ranks FNB and NEET-SS exams DHA
Click here for DNB MS Orthopaedics Theory MIRCL Course
Download app –
Android – https://play.google.com/store/apps/details?id=com.mentorexam.courses&hl=en&gl=US
iOS – https://apps.apple.com/us/app/mentor-exam/id1572870557
Join free Orthopedics discussion groups
Telegram – https://t.me/orthopaedicsexam
Whatsapp – https://chat.whatsapp.com/J1R4TyagIQLIvk0i0Ua9BC
Mentorexam Orthopaedics channel – https://www.youtube.com/channel/UCE_kna8adKErsv39Jw5jlHA
https://www.facebook.com/OrthoDNB
Telegram Updates Discussion Group – https://t.me/orthonetflix
Secure the best fellowships in orthopaedics in INDIA through FET exam and foreign fellowships DHA and prepare for DNB MS theory and practical exams, pass easily.
Top the exam using the courses below
1. FET DHA Orthopaedics MIRCL course Total Package
Top the FET exam to get entry to best fellowships in India, using the MIRCL course – has solved recall mcqs, recent mcqs, hy videos, mocks and largest question bank.No need for anything else.
2.FET DHA Solved MCQ Question bank mock exam course
3.High Yield videos course
4.Orthopaedic Master Course – DNB MS theory and practicals Pass theory and Pracs first shot
5.DNB MS Orthopaedics Solved Question Papers Course Pass Theory easily
6.DNB MS Orthopaedics Practical Exam Course OSCE bank Clear practicals easily