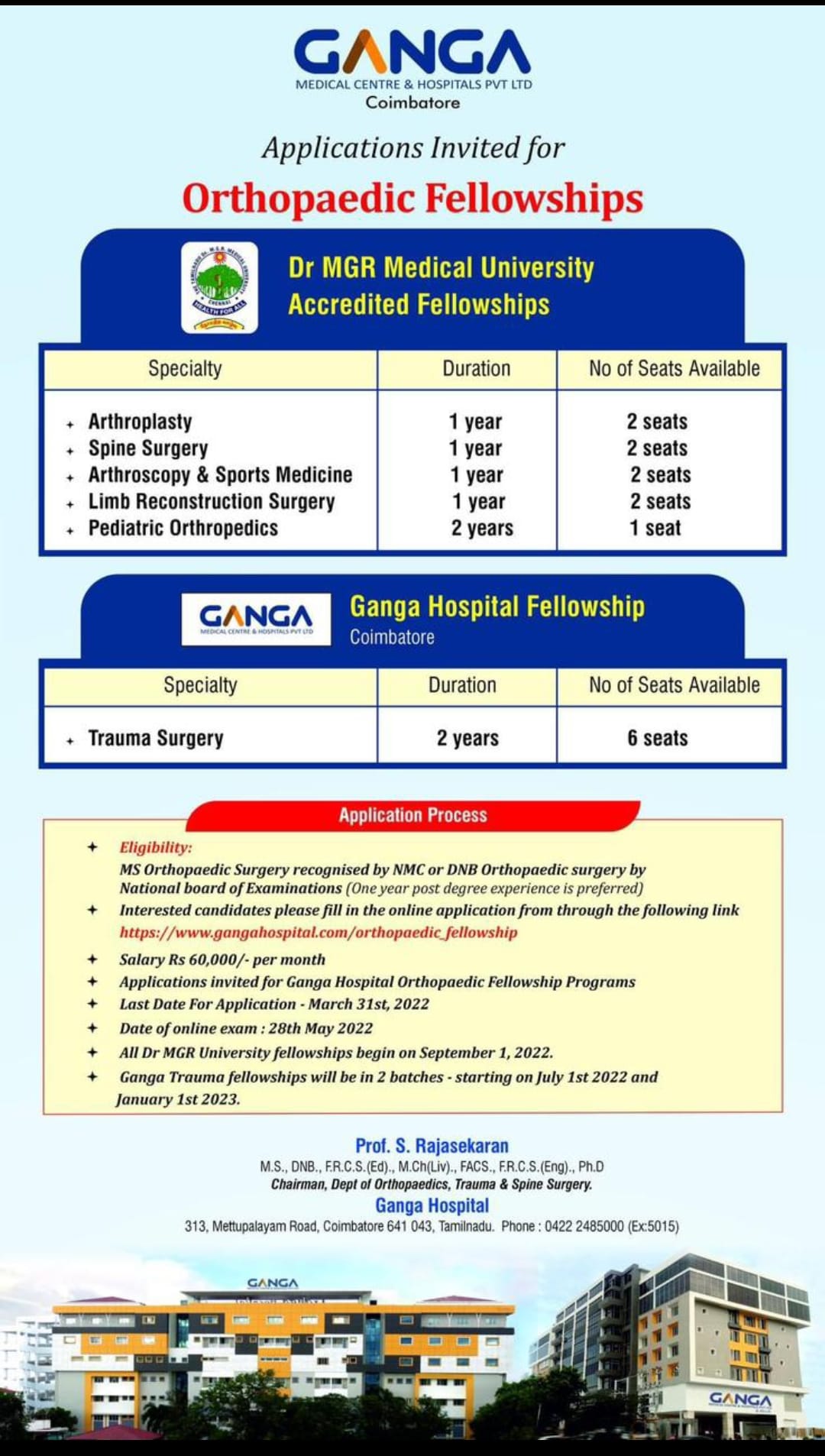 Specialty Duration No of Seats Available
♦ Arthroplasty 1 year 2 seats
♦ Spine Surgery 1 year 2 seats
♦ Arthroscopy & Sports Medicine 1 year 2 seats
Limb Reconstruction Surgery 1 year 2 seats
* Pediatric Orthropedics 2 years 1 seat
Eligibility:
MS Orthopaedic Surgery recognised by NMC or DNB Orthopaedic surgery by
National board of Examinations (One year post degree experience is preferred)
♦ Interested candidates please fill in the online application from through the following link
https://www.gangahospital.com/orthopaedicfellowship
♦ Salary Rs 60,000/- per month
♦ Applications invited for Ganga Hospital Orthopaedic Fellowship Programs + Last Date For Application March 31st, 2022 + Date of online exam: 28th May 2022 + All Dr MGR University fellowships begin on September 1,2022.
♦ Ganga Trauma fellowships will be in 2 batches – starting on July 1st 2022 and January 1st 2023.
Prof. S. Rajasekaran
M.S., DNB.. F.R.C.S.(Ed).. M.Ch(Uv)., FACS.. F.R.C.S.(Eng).. Pti.D Chairmen, Dept ol Orthopaedics, Trauma & Spine Surgery.
Ganga Hospital
Mettupalayam Road. Coimbatore 641 043. Tamilnadu. Phone: 0422 2485000 (Ejc501 5)
Clear practicals easily with https://www.mentorexam.com/s/store/courses/description/Orthopaedics-DNB-MS-Practical-Exam-Course-with-OSCE
Pass Practicals easily with the Practical exam OSCE RECALL MIRCL Course enroll now- by Mentorexam
https://www.facebook.com/OrthoDNB
Secure the best fellowships in orthopaedics in INDIA through FET exam and foreign fellowships DHA.
Top the exam using the courses below
https://www.mentorexam.com/s/store/courses/description/FET-Orthopaedics
1.MIRCL course Total Package
Top the FET exam to get entry to best fellowships in India, using the MIRCL course – has solved recall mcqs, recent mcqs, hy videos, mocks and largest question bank.No need for anything else.
2.Question bank mock exam course
https://www.mentorexam.com/s/store/courses/description/FNB-NEET-SS-ORTHOPAEDICS-COURSE
3.High Yield videos course
https://www.mentorexam.com/s/store/courses/description/NEET-SS-FNB-Orthopaedics-High-yield-Video-Classes