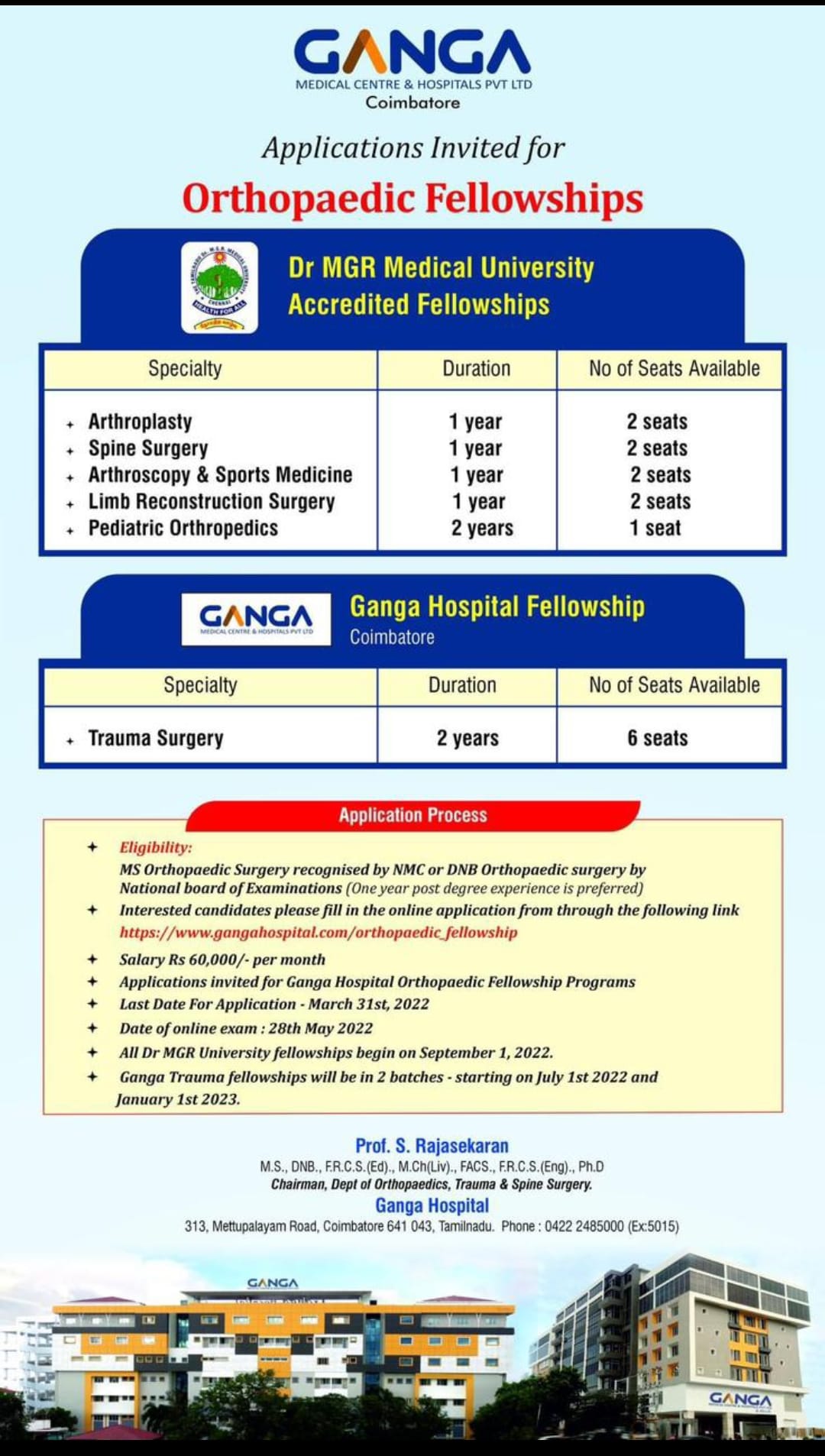 Specialty Duration No of Seats Available
♦ Arthroplasty 1 year 2 seats
♦ Spine Surgery 1 year 2 seats
♦ Arthroscopy & Sports Medicine 1 year 2 seats
Limb Reconstruction Surgery 1 year 2 seats
* Pediatric Orthropedics 2 years 1 seat
Eligibility:
MS Orthopaedic Surgery recognised by NMC or DNB Orthopaedic surgery by
National board of Examinations (One year post degree experience is preferred)
♦ Interested candidates please fill in the online application from through the following link
https://www.gangahospital.com/orthopaedicfellowship
♦ Salary Rs 60,000/- per month
♦ Applications invited for Ganga Hospital Orthopaedic Fellowship Programs + Last Date For Application March 31st, 2022 + Date of online exam: 28th May 2022 + All Dr MGR University fellowships begin on September 1,2022.
♦ Ganga Trauma fellowships will be in 2 batches – starting on July 1st 2022 and January 1st 2023.
Prof. S. Rajasekaran
M.S., DNB.. F.R.C.S.(Ed).. M.Ch(Uv)., FACS.. F.R.C.S.(Eng).. Pti.D Chairmen, Dept ol Orthopaedics, Trauma & Spine Surgery.
Ganga Hospital
Mettupalayam Road. Coimbatore 641 043. Tamilnadu. Phone: 0422 2485000 (Ejc501 5)
https://www.facebook.com/OrthoDNB
Telegram Updates Discussion Group – https://t.me/orthonetflix
Secure the best fellowships in orthopaedics in INDIA through FET exam and foreign fellowships DHA and prepare for DNB MS theory and practical exams, pass easily.
Top the exam using the courses below
1. FET DHA Orthopaedics MIRCL course Total Package
Top the FET exam to get entry to best fellowships in India, using the MIRCL course – has solved recall mcqs, recent mcqs, hy videos, mocks and largest question bank.No need for anything else.
2.FET DHA Solved MCQ Question bank mock exam course
3.High Yield videos course
4.Orthopaedic Master Course – DNB MS theory and practicals Pass theory and Pracs first shot
5.DNB MS Orthopaedics Solved Question Papers Course Pass Theory easily
6.DNB MS Orthopaedics Practical Exam Course OSCE bank Clear practicals easily