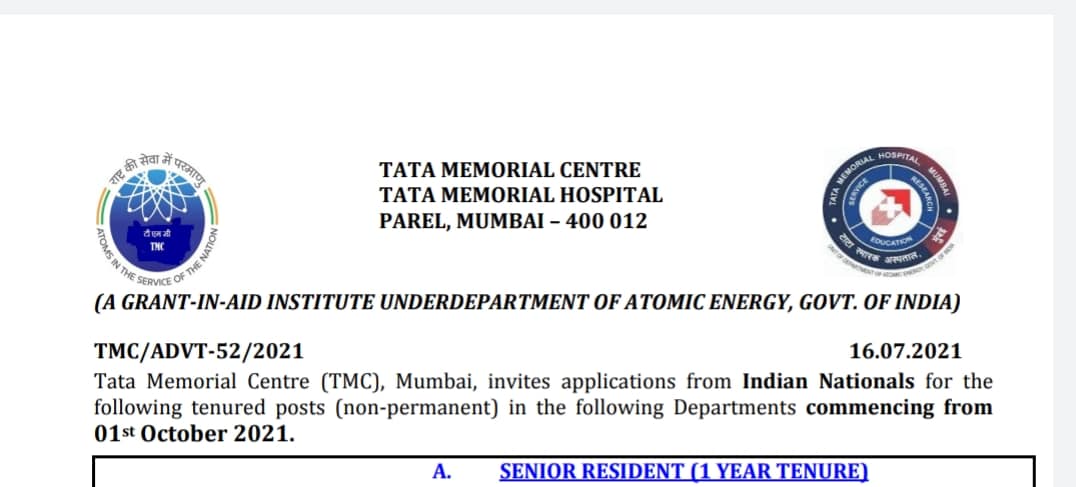 Tata Memorial Centre (TMC), Mumbai, invites applications from Indian Nationals for the following tenured posts (non-permanent) in the following Departments commencing from
01st October 2021.

A. SENIOR RESIDENT fl YEAR TENURE)
: 03:
Sr.
No.
FELLOWSHIP ESSENTIAL QUALIFICATIONS
28 ORTHOPEDIC ONCOLOGY MS/DNB (Orthopedics) with 1-year experience.
29
PLASTIC AND
RECONSTRUCTIVEONCOLOGY
M.Ch / DNB (Plastic Surgery).
30 THORACIC ONCOLOGY
M.Ch/DNB Surgical Oncology/DNB (Thoracic Surgery)OR MS (General Surgery) with 1-year experience in Surgical Oncology. 31 URO ONCOLOGY M.Ch OR DNB (Urology). 32 CANCER IMAGING
MD (Radio-diagnosis) OR equivalent PG degree with 1- year experience.
33 IMMUNO-ONCOLOGY
D.M. (Medical or Pediatric Oncology, or DNB (Medical oncology), or post MD Medicine / Pediatrics with post MD experience of at least 3 years of which at least 2 years are in a structured fellowship/diplomate programme in the fields of oncology and or hemato- oncology.
34
INTERVENTIONAL
RADIOLOGY
MD / DNB (Radio-diagnosis) with 1 -year experience.
35
DENTAL AND PROSTHETIC
SURGERY
MDS in Prosthetics &Crown and Bridge with 1-year experience.
36 HAEMATO ONCOLOGY
DM Medical Oncology / DM Haematology OR MD Medicine / MD Pediatric.
37
PEDIATRIC ONCOLOGY MD (Pediatrics). 38 SOLID TUMOR ONCOLOGY DM/DNB (Medical Oncology)OR MD ' iicin*
39 SURGICAL PATHOLOGY
MD (Pathology) OR equivalent PG d 3/5 Pec specialty with 1-year experience.
40 HAEMATO-PATHOLOGY
41 MOLECULAR HAEMATO-
ONCOLOGY
MD (Pathology) OR equivalent PG degree.
42 ONCO-ANAESTHESIA
AND PAIN
MD (Anaesthesiology) OR equivalent PG degree.
43
PREVENTIVE ONCOLOGY
MD in Community Medicine / Preventive and Social Medicine / Obstetrics and Gynecology.
44
PULMONARY ONCOLOGY
MD/DNB in (Respiratory Medicine)OR DM (Pulmonary Medicine)
CONSOLIDATED REMUNERATION :
01 YearTMC Fellowship MS/MD/DNB Rs.1,01,000/- per month – M.Ch/DM Rs. 1,10,000/- per month –
02 Years HBNI Fellowship MS/MD/DNB
Rs. 1,01,000/- per month 1st Year Rs. 1,03,000/- per month 2nd Year M.Ch/DM Rs. 1,10,000/- per month l''& 2nd Year
: 04:
GENERAL CONDITIONS:
AGE LIMIT: 40 YEARS. (Relaxable by 5 years for SC/ST, 3 years for OBC & 10 years for Physically Handicapped). Age & experience will be reckoned as on the last date of online application (i.e. 15.08.2021). 2. Security Deposit; a) SENIOR RESIDENT & 01 YEAR TMC FELLOWSHIP – Rs.1,01,000/- b) JUNIOR RESIDENT – Rs.84.000/- SR, JR & 01 Year Fellows have to pay Security Deposit at the time of Joining OR the same will be deducted in Five equal installments from their salary. This deposit will be refunded without interest after completion of SRship/JRship /Fellowship. 3. The HBNI Fellows have to pay the fees and dues to HBNI as per existing rules. The fees structure of fellows is as under:___________________________________ Year Admn., Fees
Tuition Fees
Library Fees
Appraisal Exam Fees
Convocation Fees
Total
l«yr 4,500 75,000 5,000 10,000 – • 1,03,500 2ndyr – 75,000 • – 3,000 2,000 80,000 Fellows are required to pay Rs.9,500/- by using Debit / Credit Card(Admn, Lib., fee and Security Deposit) at the time of joining and remaining amount of Rs.1,65,000/- (Tuition, Appraisal, Exam and Convocation fees) will be deducted in 10 equal installments(Rs.l6,500/-) from their Stipend. After joining the Fellowship registration fee Rs.9000/- should pay online to HBNI University. In case of Discontinuation / Resignation in between during Fellowship tenure, the fees collected till the date will be forfeited. On & above a fine of Rs.1,00,000/- (Rupees One Lakh) will be levied. 4. Senior Resident and 2 years HBNI Fellowship programme in Tata Memorial Centre are considered as Part of P.G. Bond(Those who have completed MCh/DM/DNB/MS/MD from Govt. & Municipal Medical Colleges, Maharashtra). 5. Appointed candidates may be placed as per needs of the Departments in the Tata Memorial Hospital. Mumbai campus and the Clinical Research Centre, Advanced Centre for Treatment, Research and Education in Cancer at Kharghar, Navi Mumbai campus or any of our peripheral centres in Sangrur, Varanasi, Visakhapatnam, Mullanpur, Muzaffarpur by rotation as and when necessary. 6. SRs/Fellows may be provided sharing accommodation subject to availability. Hostel Charges Rs.7,000/- for JRs and Rs.9,000/- for SRs/Fellows will be deducted every month from their stipend/salary. 7. All U.G./P.G./Super Specialty degrees must be recognized by National Medical Commission. It is mandatory for all those who joined TMH to be registered with Maharashtra Medical Council. 8. The candidates who are working under Central / State Government / Autonomous Body / Semi Government Organizations must bring their No Objection Certificate through The Head of their Institution along with all educational and experience certificates at the time of Joining.
: 05:
The Online application forms must be filled out completely in all respects. Incomplete applications will be rejected. No other mode of application will be accepted. 10. Candidates shall pay the online application fee of Rs.1000/- by using Debit Card / Credit Card. The application fee once paid will not be refunded under any circumstances.
Candidates are to cnsurg.LhaLLhcy.iulfill.the eligibility post and making payment of application Fee.
Last date for online application & hard copy printing is 15.08,2021 till 05.00 p.m.
(Indian Standard Time). The candidates are advised to apply online application well in advance without waiting for the closing date. Hard copy of applications sending through couricr/post/in-pcrson not accepted. For Online application visit our website tmc.gov.in. 12. Candidates must submit documentary evidence in support of the details furnished in the Online Application Form regarding date of birth, qualifications, experience, caste, disability certificate etc., failing which such applications will be treated as incomplete and summarily rejected.
Separate application should be submitted online for each post, (he candidate wantsto.be.consider eds
Tata Memorial Centre reserves the right to cancel the posts, fix minimum eligibility standard / bench mark and restrict no. of candidates called for MCQ/lnterview taking into account various factors like no. of vacancies, performance of the candidate etc., and decided to determine the qualifying marks for selecting candidates for the interview. Merely fulfilling the prescribed qualifications will not entitle an applicant to be called for MCQ/lnterview. The Tata Memorial Centre also reserves the right to fix minimum eligibility standard / cut-off marks (Group/Stream/Discipline/Category-wise etc.) while finalizing such candidates to be called for interview as well as selecting the candidates for final selection after the interview. The decision of the Director, Tata Memorial Centre in this regards shall be final and binding and no correspondence in this regard will be entertained. 15. All correspondence with the applicant will be done through email only
(
J.Tata Memorial Centre does not take any responsibility for non receipt of application through Online / wrong email ID OR emails delivery to spam/bulk mail folder etc.
tmhresident@tmc.gov.in
Application will be rejected if the candidate provides incorrect information in the application form. No correspondence in this regard will be entertained.
ENTRANCE EXAM/VIVA : Instructions regarding MCQ exams and short listed candidates name will be uploaded on our website (tmc.gov.in) in examination/interview section. Existing covid 19 pandemic situation, we may opt to take the exam online i.e. Remote Proctored Assessment and Interview may conducted via virtual platform.
https://www.facebook.com/OrthoDNB
Telegram Updates Discussion Group – https://t.me/orthonetflix
Secure the best fellowships in orthopaedics in INDIA through FET exam and foreign fellowships DHA and prepare for DNB MS theory and practical exams, pass easily.
Top the exam using the courses below
1. FET DHA Orthopaedics MIRCL course Total Package
Top the FET exam to get entry to best fellowships in India, using the MIRCL course – has solved recall mcqs, recent mcqs, hy videos, mocks and largest question bank.No need for anything else.
2.FET DHA Solved MCQ Question bank mock exam course
3.High Yield videos course
4.Orthopaedic Master Course – DNB MS theory and practicals Pass theory and Pracs first shot
5.DNB MS Orthopaedics Solved Question Papers Course Pass Theory easily
6.DNB MS Orthopaedics Practical Exam Course OSCE bank Clear practicals easily