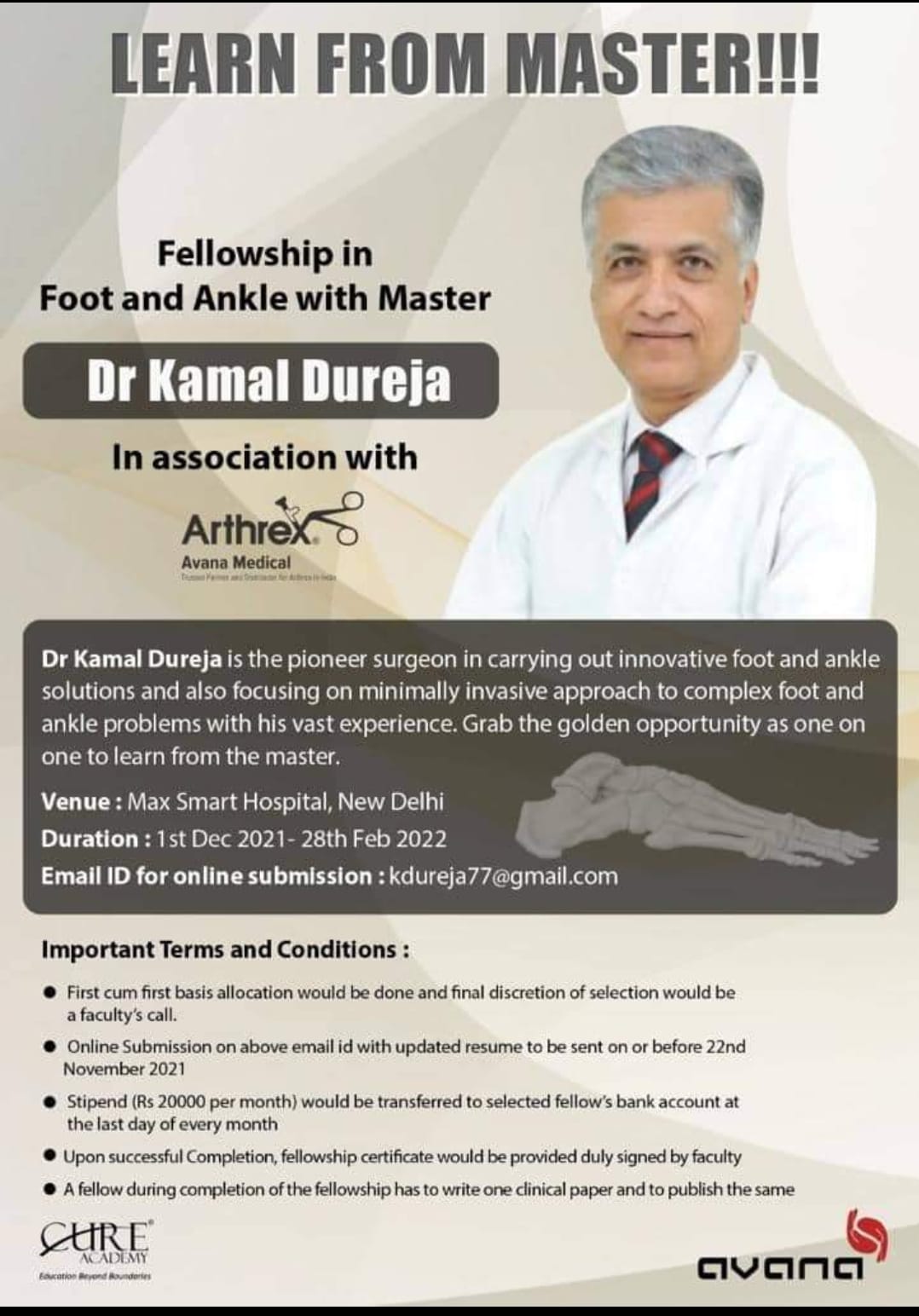 Fellowship in Foot and Ankle with Master Dr Kamal Dureja
In association with ArthreX Avana Medical
Dr Kamal Dureja is the pioneer surgeon in carrying out innovative foot and ankle
solutions and also focusing on minimally invasive approach to complex foot and
ankle problems with his vast experience. Grab the golden opportunity as one on
one to learn from the master.

Venue: Max Smart Hospital, New Delhi
Duration : 1 st Dec 2021- 28th Feb 2022
Email ID for online submission : kdureja77@gmail.com

Important Terms and Conditions
• First cum first basis allocation would be done and final discretion of selection would be
a faculty's call.
• Online Submission on above email id with updated resume to be sent on or before 22nd
November 2021
• Stipend (Rs 20000 per month) would be transferred to selected fellow's bank account at
the last day of every month
• Upon successful Completion, fellowship certificate would be provided duly signed by faculty
• A fellow during completion ofthe fellowship has to write one clinical paper and to publish the same
Clear practicals easily with https://www.mentorexam.com/s/store/courses/description/Orthopaedics-DNB-MS-Practical-Exam-Course-with-OSCE
Pass Practicals easily with the Practical exam OSCE RECALL MIRCL Course enroll now- by Mentorexam
https://www.facebook.com/OrthoDNB
Secure the best fellowships in orthopaedics in INDIA through FET exam and foreign fellowships DHA.
Top the exam using the courses below
https://www.mentorexam.com/s/store/courses/description/FET-Orthopaedics
1.MIRCL course Total Package
Top the FET exam to get entry to best fellowships in India, using the MIRCL course – has solved recall mcqs, recent mcqs, hy videos, mocks and largest question bank.No need for anything else.
2.Question bank mock exam course
https://www.mentorexam.com/s/store/courses/description/FNB-NEET-SS-ORTHOPAEDICS-COURSE
3.High Yield videos course
https://www.mentorexam.com/s/store/courses/description/NEET-SS-FNB-Orthopaedics-High-yield-Video-Classes